Free Paid Surveys - Make Money Online
Learn how to make money online completing paid surveys for free.
Paid Surveys are one of the most popular ways our members at Rewardingways use to make money working online. We have a large selection of surveys available from a number of different advertisers giving you more opportunities to earn, and as a result potentially higher rewards. Many of our members earn over $200 each month by compelting a regular number of surveys on a daily basis, and do this is their spare time whether at home, at work, or anywhere they find a little bit of spare time.
Rewardingways is completely free to use, so there is no charge for accessing any of the paid surveys available. The surveys are provided by advertisrs who want feeback on their products and services they provide. They are happy to pay for good quality feedback which allows them to improve the products and services they provide. Typically the surveys take between 5-20 minutes. Generally the longer surveys will pay more.
Daily Paid Cash Surveys
New surveys are made available every single day in our "Daily Paid Cash Surveys", so you can visit Rewardingways Daily to build up a steady online income. We recommend you check back here every day for a fresh supply of surveys. You will also find that some of our advertisers will provide Unlimited Paid Surveys in this area, which allows to you complete as many surveys as they have available that day and receive payment for each individual survey completed.
Live Paid Surveys
We also recommend that you check out our "Live Paid Surveys" section. This area is updated throughout the day whenever a new survey is available. You can also request to receive email notifications of new surveys as they arise. You will also find that these one off surveys can pay a little bit higher, but usually they are only available for a limited time due to having limited numbers of completions available.
Additional Paid Surveys available via our Offerwall Partners
We have teamed up with a number of respected Offerwalls who as well as offering some high paying rewards for completing offers, have dedicated paid survey areas supply additional surveys for you to complete on a daily basis. These dedicated areas provide a feature to submit your details in advance so will only display surveys that you already qualify for. Some of the more popular offerwalls providing this service include:
There are several others, so we recommend that you do check all the offerwalls to gain access to all the surveys we can provide. Again all of these services are provided free.
If you have any questions regarding the Paid Surveys we provide, please raise a Support ticket for assistance.
Member
Chatbox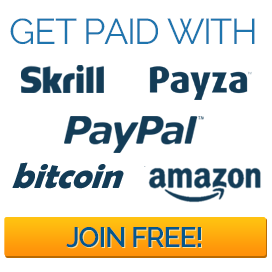 NEW MEMBER?
To learn how to make money with Paid Surveys at Rewardingways.com Click Here
Site Statistics
Current Members = 345756
Total Payments = $970,659.65